Cosmetic Dentistry IN TULSA
If your smile has been looking a little dull, or you wish your teeth were a little more uniform in their size and shape, we invite you to browse our cosmetic dental treatments. We offer an assortment of professional whitening options as well as porcelain veneers that can take your smile to the next level! Ask our team for more information by giving our office a call, or book your cosmetic treatment with us today!
Request an Appointment
Professional Teeth Whitening
If drugstore whitening strips and toothpastes just aren't doing the trick, it might be time to try professional teeth whitening. When you have your teeth whitened by a dentist, you have more control over how white you want your teeth to look. Even our take-home whitening kits contain powerful whitening gels that are more concentrated than what you will find at the store, and our team is also available to you to answer any questions and make sure your treatment is going smoothly.
One-Size Whitening Trays: If you have a special event coming up and you need a quick and affordable way to whiten your teeth, we have one-size whitening trays that don't require any impressions or evaluations. Simply let us know you would like to utilize our one-size tray option and we can send you home with everything you need to whiten your teeth that very day.
Custom Whitening Trays: When a whitening tray is custom-made for your smile, the whitening gel has an easier time reaching every point of the tooth, resulting in an even, all-over brightening effect. When you come into our office we will take impressions of your teeth in just a couple of minutes. Once the trays are created, you can use them and reuse them as many times as you would like.
KöR Deep Bleaching: KöR Whitening is a very effective teeth whitening system that you can only get from certain dental practices— and Plost Dental is one of them! KöR Whitening uses a proprietary whitening gel that is unique to their system, and it can be used at home or in our office. What makes it unique from other whitening treatments is that it is shipped and stored in a cold environment, making it just as fresh and effective as it was on the day it was made. This also means that there are no chemical stabilizers in the gel, which is what commonly leads to an increase in tooth sensitivity.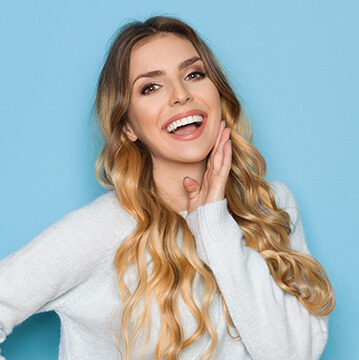 Porcelain VENEERS
Veneers are essentially porcelain, tooth-colored shells that are designed to fit comfortably over the teeth to enhance their appearance. Veneers are considered an all-in-one cosmetic treatment, because they not only whiten and brighten your smile, but they make your teeth appear more straight and homogeneous as well. Because some of the enamel on the teeth has to be removed in order for the veneers to fit comfortably, traditional veneers are considered a permanent cosmetic treatment. Our team will be happy to work with you to determine what your perfect smile looks like, so you can enjoy your dream smile for many years to come.
Ready to schedule your smile makeover? Give us a call or use our online scheduling system to request an appointment.
Request an Appointment